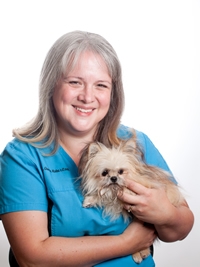 Chief Veterinarian
Dr. Gwen joined Campbellford Veterinary Services practice right after graduation from the Ontario Veterinary College in 1994. Shortly after that, she convinced her husband and classmate, Dr. Bruce Robertson, that Campbellford was the place to be. An injury in 2011 forced Bruce to stop practicing, leading to Dr. Gwen becoming the managing partner of the practice.
Dr. Gwen's favourite areas of practice are surgery (both soft tissue and orthopedic), physical rehabilitation and pain management. She has taken several continuing education courses in orthopedics. In 2009, Gwen became a Certified Canine Rehabilitation Practitioner through the University of Tennessee. There are only a few veterinarians with this training in Ontario. She is one of only four Certified Veterinary Pain Practitioners in Ontario. In 2014 she became certified in Medical Acupuncture for Veterinarians.
When not working, Gwen can be found at home with her two little boys. They have a busy hobby farm with rare and heritage breeds of chickens, ducks, geese and turkeys. Gwen is a self-admitted hatch-a-holic, with incubators running year round. She also shares her home with five dogs and four cats.